Unveiling the Top 10 Best Fielders in Cricket – A Comprehensive Analysis
When it comes to the game of cricket, there is much more to it than just batting and bowling. Fielding, an integral aspect of the sport, often plays a decisive role in turning matches around.
In this comprehensive analysis, we dive deep into the world of fielding and reveal the top 10 best fielders in cricket.
From stunning catches to lightning-fast reflexes, these extraordinary athletes have left an unforgettable mark on the game.
What is Fielding in Cricket?
Fielding in cricket encompasses a range of skills and techniques that players use to prevent runs and dismiss opposing batsmen. It involves quick movements, precise throws, and exceptional catching abilities.
There are various fielding positions. Fielders are strategically positioned on the field, taking on various roles and responsibilities to support the bowlers and restrict the opposition's scoring opportunities.
Methodology of Ranking the Fielders:
Ranking the best fielders in cricket history requires a systematic approach. A blend of statistical analysis and subjective assessment is employed to determine the top performers.
Factors such as catching success rate, run-saving stops, direct-hit run-outs, and overall impact on the game are considered.
To ensure credibility and accuracy, credible sources and expert opinions are consulted. With this comprehensive methodology, we aim to present an accurate assessment of the best fielders in cricket.
Top 10 Best Fielders in Cricket
Let us now delve into the countdown of the top 10 best fielders in cricket, starting from the tenth spot: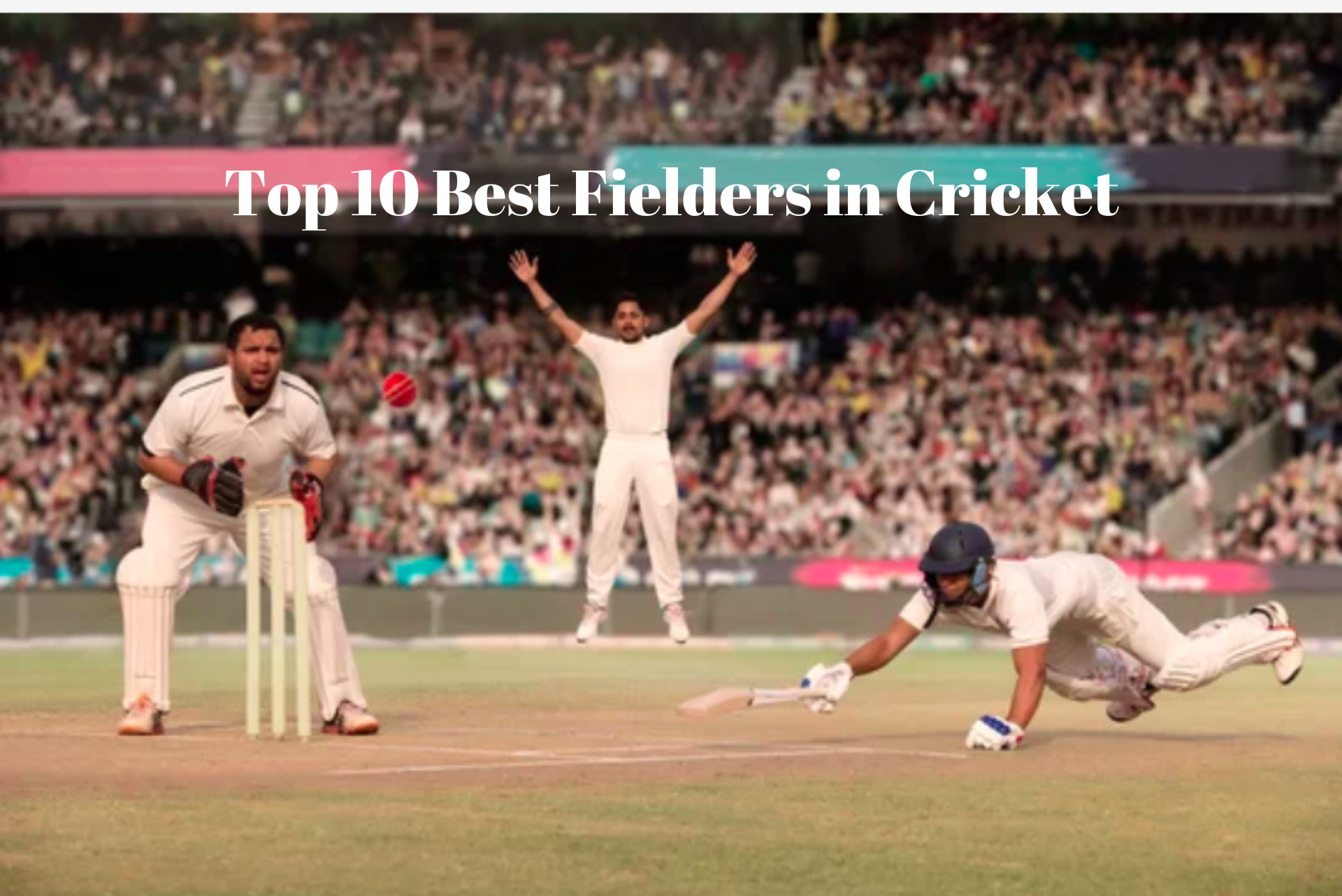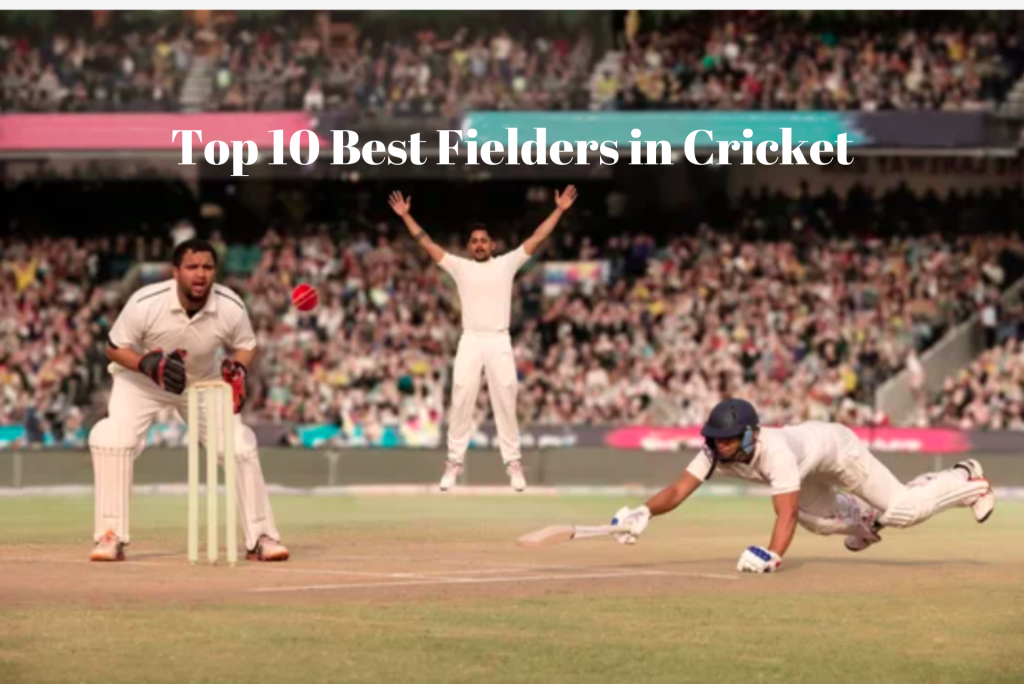 Ravindra Jadeja:
Ravindra Jadeja, known for his incredible agility and athleticism, secures the tenth spot on our list. His lightning-fast reflexes and ability to take stunning catches have made him a vital asset for the Indian cricket team.
One of his memorable fielding moments came during the ICC Champions Trophy in 2013, when he took a breathtaking catch against England, diving full stretch to dismiss Jonathan Trott.
With an impressive catching success rate of 92.3% in ODIs, Jadeja continues to leave spectators in awe.
Ben Stokes:
Coming in at number nine is Ben Stokes, a dynamic all-rounder, and an exceptional fielder. Stokes' athleticism and anticipation on the field have resulted in numerous game-changing moments.
One of his standout fielding moments was in the 2019 ICC Cricket World Cup final when he took a stunning catch in the deep to dismiss Andile Phehlukwayo of South Africa.
Stokes' direct-hit run-outs and acrobatic catches make him a force to be reckoned with in the field.
Faf du Plessis:
Faf du Plessis, known for his impeccable technique and commitment to fielding, secures the eighth position. Du Plessis has executed several outstanding run-outs, displaying his precision and agility.
In a Test match against Australia in 2016, he took a remarkable diving catch at short leg to dismiss David Warner.
Du Plessis' ability to save crucial runs with his exceptional ground fielding has contributed significantly to his reputation as one of the best fielders in cricket game.
David Warner:
Occupying the seventh spot is the explosive Australian opener, David Warner. Warner's agility and speed in the field are unmatched.
He has taken numerous sensational catches, including a memorable one-handed grab against New Zealand in 2016.
With his exceptional ground fielding and quick reflexes, Warner has often turned potential boundaries into vital dot balls, showcasing his game-changing fielding skills.
Trent Boult:
At number six, we have Trent Boult, a phenomenal fielder known for his versatility. Boult's athleticism and ability to patrol the outfield with precision have earned him a reputation as one of the best fielders in cricket game.
His incredible diving catch to dismiss Virat Kohli during the 2019 ICC Cricket World Cup semi-final was a testament to his outstanding fielding abilities.
Boult's ability to take wickets and effect crucial run-outs makes him a valuable asset for New Zealand.
Jos Buttler:
Securing the fifth position is Jos Buttler, an exceptional wicketkeeper and a top-class fielder. Buttler's safe pair of hands behind the stumps often translate to stunning catches in the field.
His extraordinary catch to dismiss AB de Villiers in an ODI match against South Africa in 2019 exemplified his exceptional catching abilities.
Buttler's agility, combined with his lightning-quick stumpings, makes him one of the best fielders in cricket game.
Virat Kohli:
In fourth place is Virat Kohli, the Indian captain known for his batting prowess. Kohli's intensity and commitment are equally evident in his fielding. His lightning-quick reactions and accurate throws have resulted in several run-outs.
One of his notable fielding moments was during the 2016 ICC World Twenty20 when he took a remarkable catch in the deep to dismiss Steve Smith.
Kohli's ability to save runs and create breakthroughs through his exceptional fielding skills solidifies his position among the best in the game.
Kane Williamson:
The third spot goes to Kane Williamson, the elegant New Zealand batsman, and an exceptional fielder. Williamson's exceptional anticipation and precise throwing arm have produced unforgettable moments on the cricket field.
His direct-hit run-outs, including the one against South Africa in the 2019 Cricket World Cup, have turned matches in favor of his team.
With his brilliant ground fielding and sharp catches, Williamson consistently proves to be a game-changer in the field.
Steve Smith:
In the penultimate position, we have Steve Smith, the Australian batting maestro. Smith's incredible agility and reflexes make him a standout fielder.
His remarkable catch at slip to dismiss Cheteshwar Pujara during the 2017-18 Ashes series left cricket fans awestruck.
Smith's ability to take sharp catches and affect crucial run-outs showcases his immense value as a fielder.
Jonty Rhodes:
And finally, Jonty Rhodes claims the top spot, considered by many as the greatest fielder in cricket history. Rhodes revolutionized fielding with his extraordinary athleticism, diving saves, and bullet-like throws.
Cricketing folklore etches his unforgettable run-out of Inzamam-ul-Haq during the 1992 Cricket World Cup.
While all the top fielders mentioned earlier have left an indelible mark on the game, Jonty Rhodes' exceptional fielding prowess and impact on the field have solidified his status as one of the best fielders in cricket history.
Rhodes' exceptional fielding skills continue to inspire generations of cricketers, making him an icon in the field of fielding.
Honorable Mentions of the Best Fielders in Cricket
While we focus on the top 10 fielders, it's important to acknowledge a few exceptional players who narrowly missed the cut.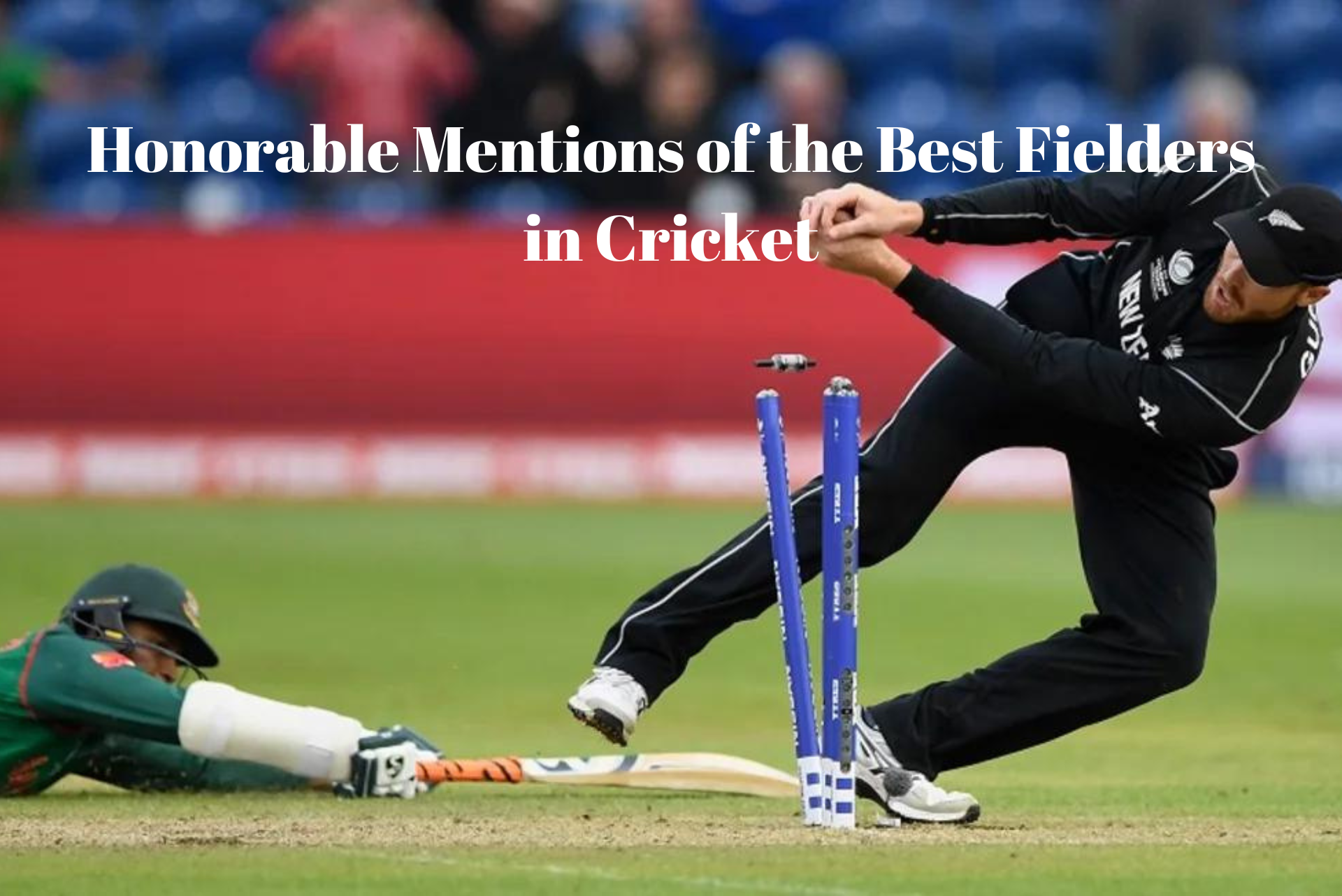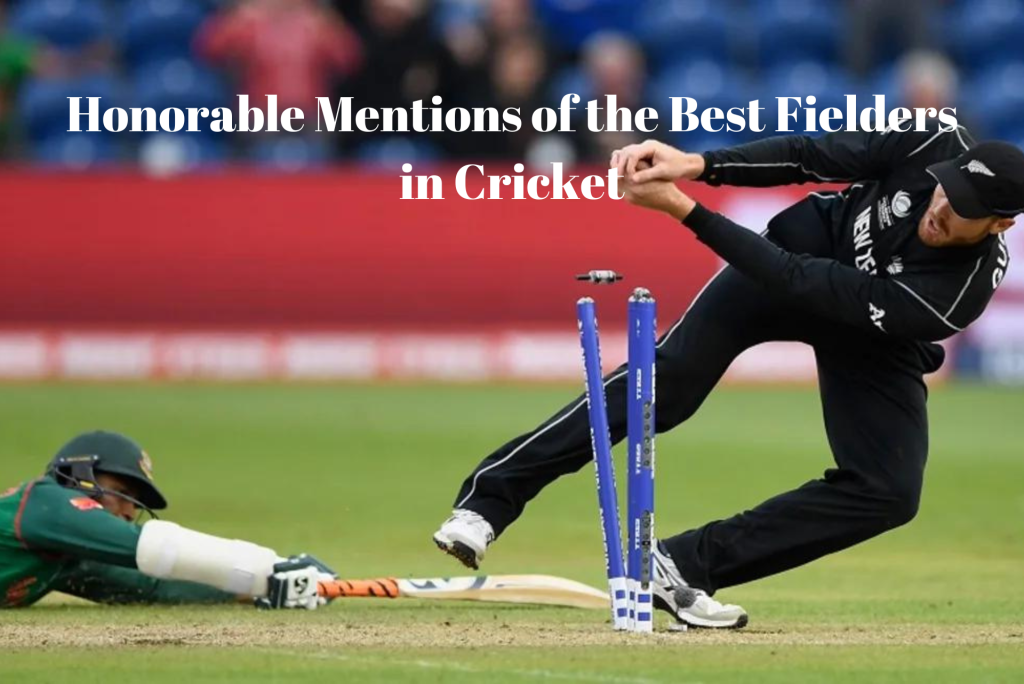 These fielders have displayed remarkable skills and have made valuable contributions to the art of fielding in cricket.
Shakib Al Hasan:
The Bangladeshi all-rounder is known for his versatility and agility in the field. His ability to take crucial catches and save valuable runs has made him a standout fielder.
Martin Guptill:
Martin Guptill, a key fielder for New Zealand, has showcased exceptional fielding skills throughout his career. His stunning direct-hit run-outs and ability to take sharp catches in the outfield have been instrumental in his team's success.
Conclusion
Fielding, an art in itself, has witnessed the rise of exceptional talents who have redefined the game through their electrifying skills.
The top 10 best fielders in cricket history mentioned here, along with numerous others, have left a lasting impact on the cricketing world. Their performances serve as a reminder that fielding is not just a supporting act but a game-changer in its own right.
As the sport progresses, new talents will undoubtedly emerge, carrying the legacy of exceptional fielding forward.