WPL Auction 2023: Get Ready to Bid for Your Dream Players!
The first-ever Auction for the Women's Premier League was held on 13th February 2023 at JWCC Jio World Convention Centre located in Mumbai, India. There are a total of five franchises taking part in the tournament.
Women's Premier League Auction brought in a total of INR 4669.99 crores to BCCI (Board of Control for Cricket in India). The narrowed list of the players that registered for this tournament consists of 409 players while the actual number of players that registered is 1525.
WPL Auction 2023
There are 202 capped players. The unassociated players are 8 and the uncapped players are 199. Within these teams, there are under 100 slots available from which there are several slots for overseas players. Further details related to WPL Auction 2023 are given below.
WPL 2023 Budget
A budget of INR 12 crore was given to each team to make their team. 13 overseas players slotted themselves under INR 50 Lakh reserve price. 24 players chose to be slotted under the highest reserve price and which is 50 Lakh. Smriti Mandanna, who was bought by Royal Challengers for 3.4 crores, is this tournament's highest-paid player. The next in number is Nat Sciver who was bought for 3.2 crores.
WPL 2023 Squad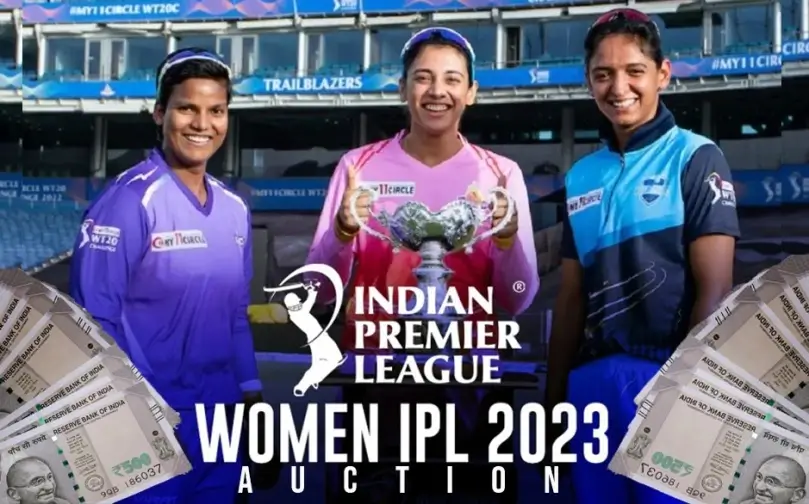 The WPL auction was conducted by BCCI and more than 400 international and national players took part in this auction to be selected. The players at the auction were bought by different franchises for their teams.
The auction took place on 13th February and now the Board has released the schedule for WPL 2023 and also the list of WPL players 2023, WPL 2023 team list, WPL player's sale price, and much more.
The whole schedule of this tournament has been announced which states the start and end of the tournament. As the list was narrowed to 409, the number of Indian players is 246 and the rest of the 163 players are from overseas and will be participating in this tournament. The matches will be live-streamed at Jiocinema.
WPL Auction 2023 Rules
The following rules are to be followed during the Auction:
Each team can buy a maximum of 18 players and a minimum of 15 players.
The teams can buy seven overseas players, that includes one from Associate Nation.
At least 90 players should be sold during the WPL auction 2023.
Certain budgets have been given to each team so that they can buy their players. (INR 12 crore)
WPL Auction 2023 Livestreaming
Following are the details as to where the Auction will be live-streamed in different locations:
| | |
| --- | --- |
| India | Sports18, Jiocinema |
| United Kingdom | Sky Sports Cricket |
| United States | Willow TV |
| Middle East | Willow TV |
| Afghanistan | Radio Television Afghanistan |
| Nepal | Net Nepal TV, Yupp TV |
| Maldives | Yupp TV |
| Sri Lanka | Yupp TV, Peo TV |
| Caribbean | Flow Sports (Flow Sports 2) |
| Canada | Willow TV |
| Bangladesh | Channel 9 |
| Pakistan | Geo Super |
| South Africa | SuperSport |
| New Zealand | Sky Sports NZ |
| Australia | Fox Sports |
WPL 2023 Format
As of 2023, the Women's Premier League will have a Round Robin format with a Playoffs format and a Group System. Here are the details:
Finalists will be determined by the top of the Women's Premier League Points table.
Those teams that are ranked 2nd and 3rd will play the match that eliminates one of them.
All participating teams will play a match twice with each other which will result in a total of 20 matches during the whole tournament.
The second finalist of this tournament will be the team who wins the eliminator match.
WPL Teams and Owners 2023:
A total of INR 4669.99 crore was received by BCCI from the WPL auction 2023. The details of the owners and teams are mentioned below:
| | | | | |
| --- | --- | --- | --- | --- |
| Team | Owner | City | Captain | Amount |
| Royal Challengers Bangalore | Diageo | Bengaluru | TBA | INR 901 Cr |
| Mumbai Indians | Reliance Industries | Mumbai | TBA | INR 912.99 Cr |
| Delhi Capitals | JSW-GMR | Delhi | TBA | INR 810 Cr |
| UP Warriors | Capri Global | Lucknow | TBA | INR 757 Cr |
| Gujarat Giants | Adani Group | Ahmedabad | TBA | INR 1289 Cr |
Broadcasting Rights of WPL:
In a five-year contract starting in 2023, Viacom18 has been granted TV and digital broadcasting rights for INR 951 crore.
Women Premier League 2023 Overview:
| | |
| --- | --- |
| Tournament | Women Premier League 2023 |
| Organization | BCCI |
| Name As | WPL 2023 |
| Type of League | Women's League |
| WPL Schedule 2023 | 4th March to 26th March 2023 |
| Category | Sports |
| Total Teams | 5 |
| WPL Auction Date 2023 | 13th February 2023 |
| Players Participated in Auction 2023 | 400+ players (international and national) |
| WPL Team list 2023 | UP WarriorzGujarat GiantsMumbai IndiaDelhi CapitalsRoyal Challengers |
| WPL 2023 Portal | Iplt20.com |
FAQs
When WPL will start? 
The schedule for the first edition has been announced by BCCI. The tournament will commence on 4th March. The tournament is promoted as Women's IPL as BCCI has opened the gates for a bigger league for Women's Cricket.   
Who is the auctioneer for WPL? 
Mallika Sagar was the auctioneer for WPL. The Auction was held on 13th February 2023 in Mumbai, India. 
How many teams are there in WPL? 
Five. There are five teams that will play in WPL 2023, but only one of them will win. The primary teams are from Gujarat, Delhi, and Mumbai. The other two are not primary teams.
Conclusion
WPL is the Women's Premier league that is starting on 4th March 2023. Its auction occurred on 13th February in which 1525 players registered but the list was narrowed down to 409 players. There are a total of 5 teams that are taking part in this tournament, each was given a budget of INR 12 crore to buy their team players.
Certain rules were followed during the WPL Auction 2023. There are different channels in different locations that are going to be broadcasting the tournament. The tournament will end on 26th March 2023. The schedule and the list of players have been announced by BCCI. A lot of overseas players also participated in the WPL auction 2023.